The County Seat of The Crystal Coast, the fourth official town to be Established in North Carolina (after Bath, New Bern, & Edenton) in 1713 and with a current population of just over 4,000 full-time residents, Beaufort~by~the~Sea is one of the most charming and enchanting towns of the the South that you will ever grace. No one visits Beaufort (pronounced Bo-Fert) North Carolina and forgets or regrets their time spent in this vintage maritime town.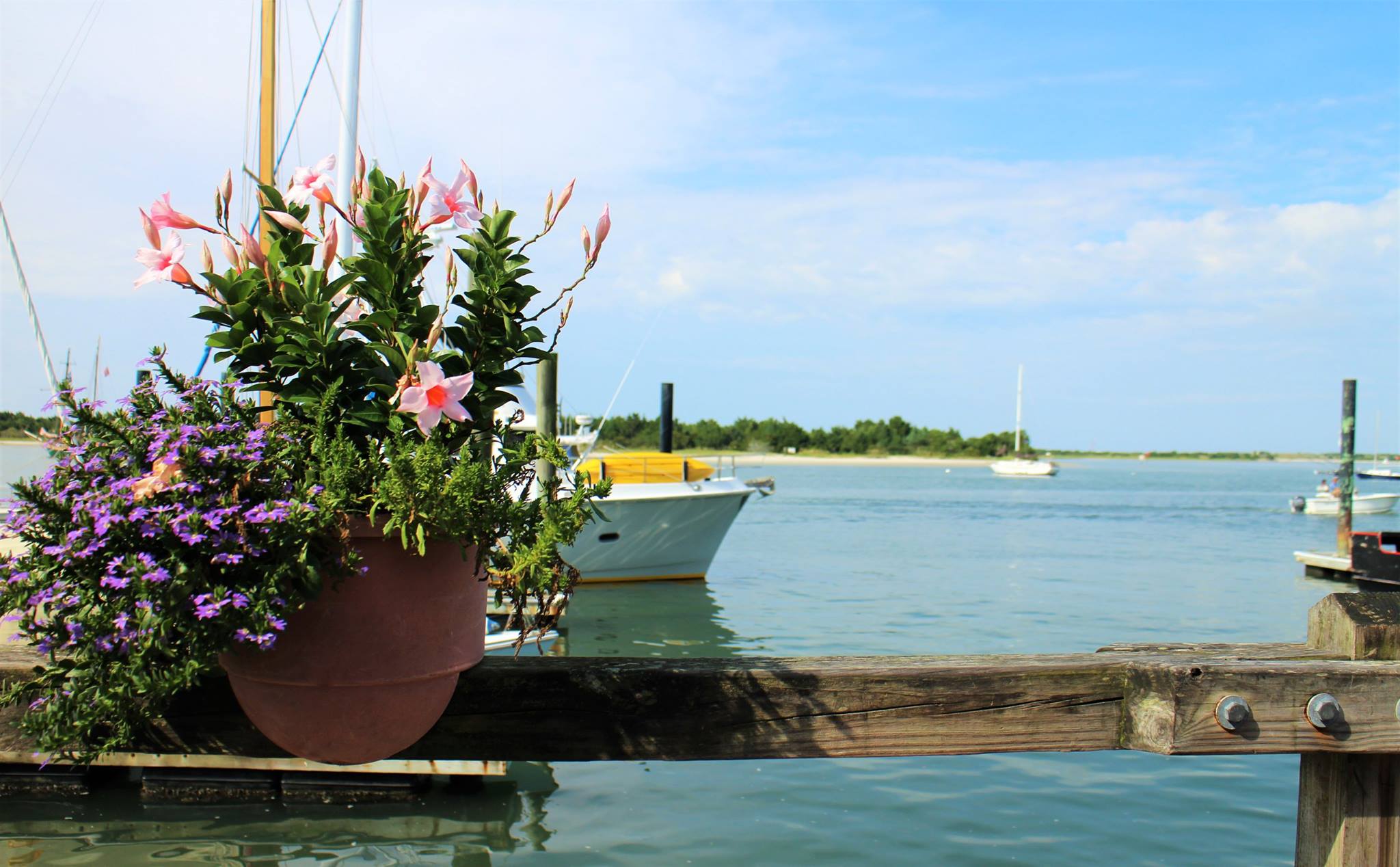 But do you know what is better than visiting Beaufort? Living, working, raising a family, being a part of the community, and retiring in Beaufort. In this article, we want to highlight some of the ideas, places, facts, and events that make Beaufort not just a nice place to tour in the summer but a great place to call Home, year round.


The land meets the sea of Taylor's Creek, a blend of fresh and salt waters, which has ordinances in place to keep it clean and debris-free and Beaufort is on track to become the first Clean Water Coastal Community in North Carolina.  Referred to as the "inner banks," in respect to the Outer Banks, Beaufort is located adjacent to the Rachel Carson Estuarine Reserve, a 2,315-acre ecosystem of natural and scenic barrier islands, salt marshes, and surrounding waters. The islands include Carrot Island, Town Marsh, Middle Marshes, Bird Shoal, and Horse Island.  Taylor's Creek separates the collection of islands from downtown Beaufort and a drive or walk along historic Front Street renders picturesque views of the Reserve which can be visited by the Island Express Ferry Service or private boat.
What's My Beaufort Home Worth Today?
Horse Lovers & Equestrians will be fascinated with the Rachel Carson Reserve and Shackleford Banks, home to wild horses, or "banker" ponies. The original horses most likely migrated or were abandoned through a combination of events in the mid-19th Century when the Spanish were discovering the New World. Today the herd of more than 110 wild horses is protected, managed, and monitored by The Foundation for Shackleford Horses Inc. However, they remain an independent species and are not fed, watered, or sheltered with human intervention. It is remarkable that all of the horses, to our knowledge, survived Hurricane Florence in September 2018. Wild, beautiful, and resilient, they frolic and thrive in their natural home on the banks of the Crystal Coast. How lucky are we to observe this magnificent place?
The North Carolina Maritime Museum, located at 315 Front Street discovers and preserves an astounding 300-year collection of tales and history of Beaufort and coastal North Carolina.  The past, present, and future come together at the museum with educational games and exhibits of lighthouses, sea life, the fishing industry, artifacts of three monumental wars; World War I, II, and The Civil War, and more.  The museum is the official repository for ancient relics from Blackbeard's flagship Queen Anne's Revenge, wrecked and sunk off the coast of Beaufort in 1718 and discovered in 1996. Beachcombers & Shellers will be aglow in the room full of seashells, displaying over 1,000 different species of shells from around the globe. You never have the same visit twice at the museum. With Free Admission you can go as often as you like and you will experience and learn something new, every single time.
Top 10 Places to Eat in Beaufort

Carteret County Public Schools are amongst the highest rated in the State of North Carolina, both to attend as a student and to work for as a professional.  Beaufort schools are equipped with leading systems and technology including PowerSchool Mobile App to aid in communications between students, teachers, and parents in a digital world. 
Tiller School is a top rated, tuition FREE Charter School serving Kindergarten through Fifth Grade, located at 1950 Live Oak Street.  Tiller School follows the North Carolina Standard Course of Study and participates in the North Carolina End of Grade testing program. Courses include Mathematics, Language Arts, Technology and Science, with a strong emphasis on the Arts. The Social Studies instruction centers around the concepts of a global community through the ED Hirsch program. Tiller School educates just over 200 students and averages 13 students per teacher.
Beaufort Elementary School is located at 110 Carraway Road and serves Kindergarten through Fifth grade. Operating at Above Average in State test scores, Beaufort Elementary educates 454 students and an average of 12 students per teacher.
Beaufort Middle School serves grades Sixth through Eighth and is located adjacent to the Elementary School at 100 Carraway Drive.  Beaufort Middle school operates at Above Average in State test scores and has 251 students with an average of 11 students per teacher. 
East Carteret High School, located at 3263 Highway 70 East, educates 628 Ninth through Twelfth Grade students from thirteen "Down East" communities, North River, Merrimon, South River, and Beaufort.  With an average of 14 students per teacher and ranking Above Average in State test scores, ECHS boasts an award-winning Marching Band, a national championship Speech and Debate team, a remarkable drama/theatre arts program, a large service-oriented Student Council and Interact Club, and a unique and popular Latin language program.
 
We are fortunate to have a local community college providing both live and online classes, at the Crystal Coast.  An easy 20 minute drive from downtown Beaufort, Carteret Community College is located at 3505 Arendell Street in Morehead City and offers High School students the opportunity to graduate with college credits through the Career & College Promise Program, tuition FREE. This Dual Enrollment provides our youth the path to accelerate their education with college certificates, diplomas, associates degrees, and college transfer opportunities while living at or close to home and without the substantial expense of student loans. There are over 40 different programs of study offered at the community college and over 12 branches of continuing education, life enrichment classes, and a small business center on site in support of local entrepreneurs and start-ups.
Employers & Small Business at The Crystal Coast

Downtown Beaufort is walkable, bikeable, boatable, golfcartable (wait, is that a word? Yes, in Beaufort that is a word.) and waterfront. Beaufort's Historic District encompasses 12 blocks of more than 200 homes recognized by the National Registered Historic District that are over a century old and several private residences more than 200 years old.  For 60 years the Beaufort Historical Association has hosted a tour of these vintage Homes and Gardens in the month of June. One of our favorite ways to view the architectural fabric and pristine waterways of Beaufort is aboard the 1967 English Style Double Decker Tour Bus.
Top 7 Townhome & Condo Communities in Beaufort

But, not everything about Beaufort is Olde Towne. With a name like "America's Coolest Small Town," you know your game better be on fleek. Beaufort is consistently called out by top media channels with accolades such as "America's Most Romantic Town," "Best Yachting Town," and "America's Favorite Town". In September 2014, Beaufort was featured as USA Today's "Charming Small Town of the South" and in 2019 Beaufort claimed the Number One spot in Southern Living Magazine's "The South's Best Town in 2019". Beaufort is peppered with flirty southern fashion and accessory boutiques, nautical and whimsical gift and bookshops, casual dining cafes, upscale restaurants, taverns with live music, art studios, and coffee & wine shops. And did we mention a lot of these places are pet-friendly?
Just outside of the historic district, Beaufort blooms with mixed-use developments featuring newly constructed single-family homes, townhomes, cottages, condos, and a suite of community amenities.  Take a ride East on 70, just outside the city limits and enjoy recently developed and prestigious, Beaufort Club, featuring a championship golf course, clubhouse, swimming pool, volleyball court, and affordable resort-style living.  In Spring 2019, the three-story, waterfront, Beaufort Hotel Ascend Collection featuring 133 rooms, a restaurant, and a ballroom opened its doors for business bringing over 100 new jobs to Beaufort. This dynamic expansion of the already innovative Front Street Village, with a Tesla Destination Charging Station on site, will inevitably bring new and exciting ideas, opportunities, and business to Beaufort.


Top 9 Single-Family HOA Communities in Beaufort
From the Golden Age of Piracy to a small, tight-knit fishing village, to a sunny, warm, and salty tourist destination, to a well-established and thriving seaside community where boating is in style and in season year-round, business is good, small and local, and the people are genuinely happy.  Delightfully Different Beaufort has sailed through the winds of change growing and unfolding in her grace, beauty, and classic southern charm, like a queen. Some of us try to capture Beaufort with a photograph or a blog, or even a book. But if you live here, or you have visited, you realize that's impossible. At Barefoot-Chandler & Associates Real Estate, we understand that we are blessed to live here and work here and we always welcome the opportunity to help people Experience: Beaufort, North Carolina.


Barefoot-Chandler & Associates Real Estate is a privately owned agency serving The Crystal Coast. We respect your privacy and we do not spam or share your contact information with third parties.