Atlantic Beach Real Estate
As the first of five unique communities to be developed along a 21-mile barrier island called Bogue Banks, a proper profile of modern-day Atlantic Beach should essentially begin with a brief reflection of the past.  Accessible by boat only, the idea of Atlantic Beach, North Carolina was envisioned circa 1870 by a Portland, Maine born, Carteret County resident, Appleton Oaksmith.  Oaksmith purchased hundreds of acres on Bogue Banks, which today accounts for Atlantic Beach & Eastern Pine Knoll Shores, with the vision of building a prime oceanside resort destination.  As fate would have it, on July 4th, 1879, Oaksmith tragically lost 4 of his daughters when the sailboat they were on capsized between Beaufort and Fort Macon and he was the sole survivor.  This unimaginable experience broke his heart and crushed his dreams of developing his resort by the sea.  It is recorded that Appleton Oaksmith never recovered from his love lost and passed away on October 29, 1887, in a New York hospital.
Atlantic Beach Homes, Townhomes, & Condos
In that same year of 1887, two Morehead City businessmen, John J. Royal and Winfield S. Chadwick, built the first bathing pavilion on Bogue Banks.  Patrons of the Atlantic Hotel in Morehead City began to frequent the new bathing house across the waterway because they enjoyed bathing access in the ocean surf.  In 1898, Royal and Chadwick divided their holdings on Bogue Banks, Chadwick retaining the original bathing pavilion and Royal developing a larger bathing pavilion on the beach of today's Money Island Boulevard.  In 1922, another bathing pavilion and ballroom was opened on the east side of today's Henderson Boulevard and named "Asbury Beach".  Four years later, in 1926, a group of Morehead City and Beaufort investors purchased land to develop a new resort on Bogue Banks and constructed a toll bridge connecting Morehead City to the island.  On Memorial Day, 1928, "Atlantic Beach" officially opened for business accessible by bridge, complete with two bathhouses, one for men and one for women, and a large ballroom-style dancehall named "The Pavilion".  The original architecture of Atlantic Beach was "Pagoda", an oriental design, and encompassed an area called "The Circle".  One short year later, July 20, 1929, the new Atlantic Beach development was destroyed by fire, followed by the Great Depression. The owners defaulted on their loans, reverting ownership back to the lender, Manufacturers Bank & Trust Company of New York.  The Bank formed a new corporation, Atlantic Beach & Bridge Company, and rebuilt the Atlantic Beach resort.  In 1930, Atlantic Beach re-opened for business with two new bathhouses and a dancehall named "The Casino".  Shortly afterward, the Atlantic Beach Hotel was built at the site of today's Crab's Claw Restaurant.  Development continued, lots were platted and sold, streets running east and west were called Boulevards and named after local geographical features, streets running north and south were called Avenues and named after cities and towns of North Carolina, and in 1932 the first cottage was built in Atlantic Beach, North Carolina.
Today, Atlantic Beach at The Crystal Coast is a small, primarily residential, friendly, coastal town with a down-home, laid-back, southern-style, country-mile vibe.  With full-time residency less than 2,000 in 2.4 square miles and an average sales price of just over $450K, you can actually enjoy and afford life at the beach !!  We want to highlight some of the ideas, places, facts, and events that make this historic and resilient community more than just another beach destination on the map, but also a place to take pride in, to live, to raise a family, to retire, and to call your Home. 
What's My Atlantic Beach Property Worth?
Atlantic Beach, North Carolina is the proud home of US Coast Guard Station Fort Macon, a multi-mission unit with activities directed towards five programs: Search & Rescue (SAR), Enforcement of Laws & Treaties (ELT), Recreational Boating Safety (RBS), Marine Environmental Protection (MEP), and Homeland Security (HLS).  Fort Macon State Park is an integral piece of history preserved, circa 1824.  The second most visited state park in North Carolina, named after the presiding U.S. Senator from North Carolina, Nathaniel Macon, the fortress was designed and constructed by the Army Corps of Engineers to protect our homeland from piratical and foreign invasions and attacks, including the Civil War.  Fort Macon features a thoroughly restored 5-sided brick and stone fort with 26 vaulted rooms and several functioning cannons. The Visitor's Center showcases the history and ecology of the Fort and the surrounding area of Carteret County in a mini-museum with interactive displays, a souvenir/gift/book store, guided tours, and a year-round calendar of special events.  The grounds surrounding the fort are a coastal haven of salt marshes, estuaries, and dune fields for aquatic life, and unspoiled shorelines where you will enjoy swimming, surf fishing, and beachcombing.  Fort Macon brings history to life and it is truly is a remarkable place to be and to experience. In the off-season, the fortress is a quiet retreat and a classic backdrop for a photo shoot or a seaside picnic.
Top 10 Public Beach Access Points at The Crystal Coast (map)
The Oceanana Fishing Pier stretches nearly 1,000 feet into the Atlantic Ocean and provides a wide variety of saltwater fish for anglers to catch. Enjoy romantic strolls, glorious views, and heavenly sunsets.  The oceanfront Pier House Restaurant features local seafood favorites and despite the damages endured from Hurricane Florence in September 2018, the restaurant is open for business with exciting updates and new menu options.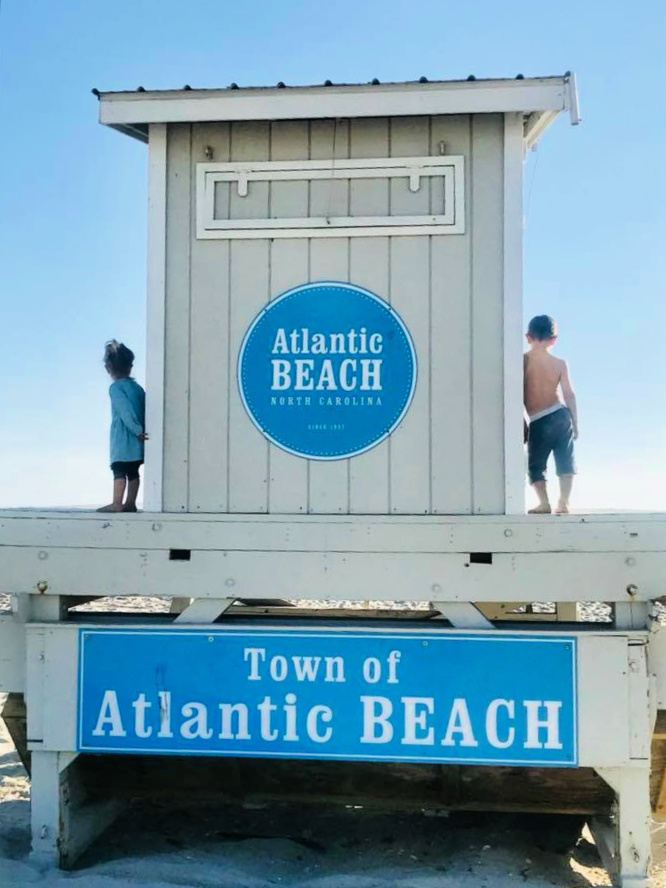 Carteret County Public Schools are amongst the highest rated in the State of North Carolina, both to attend as a student and to work for as a professional.  All schools are equipped with leading systems and technology including PowerSchool Mobile App to aid in communications between students, teachers, and parents in a digital world.  
Morehead City Primary School is located at 4409 Country Club Road.  Serving Kindergarten through Third Grade with a student count of 600 and an average of 12 students per teacher.  
Morehead City Elementary School at Camp Glenn serves Fourth & Fifth Grades and is located at 3316 Arendell Street.  Operating at Above Average in State test scores, MHC Elementary educates 270 students with an average of 12 students per teacher.  
Morehead City Middle School serves Sixth through Eighth Grades and is located at 400 Barbour Road.  MHC Middle School has 494 students and ranks Above Average in State test scores with an average of 13 students per teacher.  
West Carteret High School is situated at 4700 Country Club Road and was built as a consolidating secondary school for Newport & Morehead City in 1964, serving grades Ninth through Twelfth with 1,260 students and an average of 15 students per teacher.  West Carteret is the largest High School in Carteret County and has been recognized by the State of North Carolina as an Honor School of Excellence with at least 90% of students performing at grade level. 
We are fortunate to have a local community college at The Crystal Coast providing both live and online classes.  Carteret Community College is located at 3505 Arendell Street in Morehead City, a  beautiful 10-minute drive from Atlantic Beach, and offers High School students the opportunity to graduate with college credits through the Career & College Promise Program, tuition FREE.  This Dual Enrollment provides our youth the path to accelerate their education with college certificates, diplomas, associates degrees, and college transfer opportunities while living at or close to home and without the heavy expense of student loans.  There are over 40 different programs of study offered at the community college and over 12 branches of continuing education, life enrichment classes, and a small business center on site in support of local entrepreneurs and start-ups.
Employers & Small Business at The Crystal Coast
After class, on the weekends, and all summer you'll enjoy the newly constructed 7-acre Atlantic Beach Town Park, complete with a large playset, a swingset, merry-go-round, basketball goal, miniature golf course, splashpad, & skatepark. Kids of all ages are entertained in Atlantic Beach, with the Atlantic Station Shopping Center conveniently located across the street from the Park, featuring Table 9 Seafood & Oyster Bar, Atlantic Station Cinema, Battle Works Tactical Lazer Tag, Ace Hardware, Food Lion Grocery, shopping boutiques, cafes & restaurants.
While Florida beaches grow more and more congested with people, concrete, sky-high buildings, and commercialization, we enjoy expansive, sandy, pet-friendly, south-facing beaches with water views of both the sunrise and the sunset. Crystal Coast beaches are undeniably some of the most beautiful and peaceful in the country but Bogue Banks holds more secrets than it's beaches. For example, adjacent to the AB Shopping Center is a discreetly marked entrance to Hoop Pole Creek Nature Trail, a half-mile, shaded boardwalk trail over an estuarine ecosystem of marshland and dune ridges. Peacefully wander through the maritime forest to the mouth of Hoop Pole Creek, a small inlet of Bogue Sound named after the "hoop pole," a long section of bark that pioneers would peel from young saplings and use to secure the ends of wooden barrels, years before the metal "hoops" were used.  The scenic trail is open year round and, depending on the season, you can expect to view deer, fox, turtle, songbirds, migratory and native birds including heron, egret, ibis, pelican, and a wide variety of other, long-legged shorebirds in their natural habitat.
Carteret County Nature & Scenic Trail Guide
Atlantic Beach is home to some of the most exciting festivals at The Crystal Coast including the Atlantic Beach Music Festival in May featuring popular local bands like The Embers, Jim Quick and Coastline, Mighty Saints of Soul, Blackwater Rhythm & Blues, and Steve Owens & Summertime Band.  The North Carolina Kite Festival is a colorful and amusing event for the family bringing hundreds of people together in October to enjoy the beach while the sky is filled with brilliant animated art.  Residents enjoy the beach well into the winter season with mild temps, fewer people, traditional holiday events and parades, and off-season specials for locals.  View our Top Five favorites for Dining & Drinks, Off Season…
From a distant and inspiring vision 150 years ago, to the tragic loss of the original visionary, back to the drawing board with 2 successors, Atlantic Beach was brought to life, destroyed, redesigned, and built again.  With tremendous sorrow, on March 11, 2019, a local family, the Town of Atlantic Beach, the County of Carteret, the State of North Carolina, and the United States of America, lost a noble, heroic, and selfless husband, father, friend, resident, and leader; Fire Chief Adam Snyder.  Hardship & Loss do not discriminate, regardless of how magnificent a land we live upon or a life we lead. Our foundation and our future are intricately woven with blessings, tragedies, triumphs, losses, hopes, and dreams. At Barefoot-Chandler & Associates Real Estate, we understand that we are blessed to live here, to work here, and to call this distinguished, unique, and resilient community our home.  We always welcome the opportunity to help people Experience: Atlantic Beach, North Carolina.
Barefoot-Chandler & Associates Real Estate is a privately owned agency serving The Crystal Coast.  We respect your privacy and we do not spam or share your contact information with third parties.